Producing shareable content is a great way to not only expand your reach but further establish your brand.  The key is to post content that resonates with your audience enough for them to want to share it.  How do you do this?  We are here to help.
Below are 7 tips to help you create shareable content.
1. Research your competitors
One of the easiest ways to come up with shareable content is to look at what is working for your competitors.  See what type of content is generating the most engagement and you have a good idea of what your audience will respond to.
Here are some tips for how to research your competitors on social media:
Come up with a list of your top competitors and the platforms you both have a presence on.  Being on the same platforms means you are competing so you want to try and make the audience see you as the more trusted option to follow.
Go back 6 months and see what content they are publishing.  Are they publishing blogs, vlogs, live content, video?  Next you want to see which is generating the most engagement.  Are their Facebook videos or Instagram stories boosting engagement with their audience?  Have this serve as inspiration for creating your own content.
2. Keep Your Content Simple
People are moving quickly through the day and they need to be able to easily digest the content you share.  This can be achieved by formulating an introduction that tells the reader what problem you are addressing and the best way to handle it.  You then want to list a few bullet points that summarize what they are going to learn from your post.   This allows the reader to know right away whether this post is something they will benefit from reading.
Another way to make your content more easily digestible is to break it up.  Here are some examples:
Keep your paragraphs to only a few sentences.
Use headers throughout.
Turn your content into an infographic.
3. Following trending topics
There are tons of ideas to take advantage of if you follow what is trending in the news.   Google Trends is a great tool for finding out what is trending online for any given day.  Sift through it and see what might fit as content for you.  Also, you should set up keywords with  Google Alerts.  They will send you emails with any articles that are relevant to them.  Facebook is another great place to find trending news.  You see it on the right of your feed.  Check it often and see what you can share that would be a good tie in for your audience.
4. Do keyword research
They key to sharing successful content is knowing what type of content your audience wants to read.  This is found out through keyword research.  For this you need to use tools like Google keyword planner and Ahrefs (there are a ton of others). When you search your topics you will be able to see how often people are searching for them and what other keywords people are also searching for. All this will help you come up with more targeted content.
5. Turn content into shareable images and video
When it comes to video, it is one of the most popular activities online.  People love watching videos.  Furthermore, people are visual.  So content with an image attached to it are what works for people.  Here are some tips:
Look at the headline of your content and put it on a related image.
Go through your content and look for snippets of information that can be turned into a video or an image.
If you have any content that is robust with details, consider turning those details into a handy infographic.
6. Post inspirational content
Content that makes people feel great is another thing to strive for when it comes to what you are sharing.   Take some time to go through your content and see if you have some inspirational quotes you can pull out.  Create images with your quotes and share away.  Canva can help out with this if you do not have a graphic designer on the books.
 7. Have sharing buttons in prominent places
You need to make it easy for people to easily share your content.  This is where share buttons come into play.  It allows your audience to easily click and share your content with their followers.  A popular place to place share buttons is along the left side as seen here.  You can also make them follow the reader as they scroll.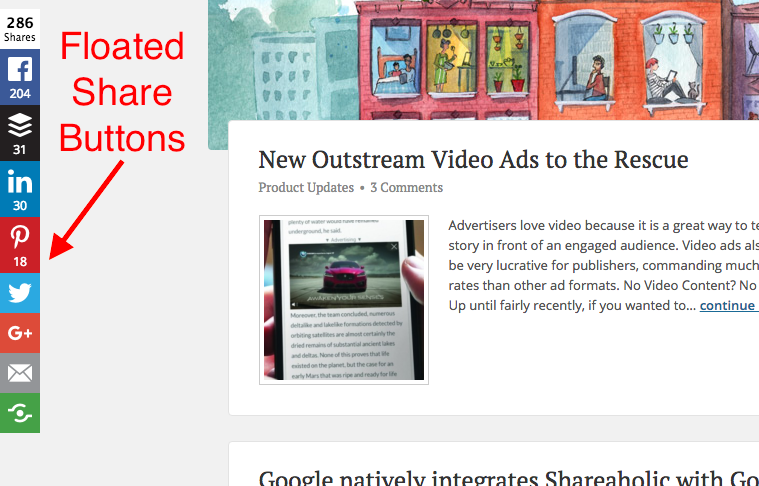 Final  thoughts
Coming up with content that resonates with your audience enough for them to share it is the goal of content marketing.  With that being said, it is not easy to consistently come up with great content.  The above tips will help you get started and get you on the track of establishing your brand as a trusted voice.