Effective Instagram business tips are essential if your business is on this platform.  In this post, we will be discussing how to leverage your Instagram customer reviews to help grow your business.
Depending how long you have had a business profile on Instagram, you may have received some Instagram customer reviews already.  Positive customer reviews are like gold for your business.  They are a very effective way to increase your social proof.  With so many users on this platform, the sales potential for any sized business is huge.  With that being said, you will have a very hard time getting followers to buy from your business without social proof.
Below are five effective Instagram business tips that will help you  leverage your customer reviews and boost sales
Your customer content should have its own account
This is one of our favorite Instagram business tips because it is so easy to implement.  Since your main Instagram account has a style all its own (fyi ..it should if yours does not) it can be hard to weave in customer content so that it flows with the style you already have in place.  For this reason, it is a good idea to feature your customer testimonials on their own Instagram account.  By doing this, you get the opportunity to showcase your customer reviews without messing with the aesthetics you already have in place for your main account.   Once you have that second account set up , be sure to promote it in the bio section of your main account.
Feature customer reviews in Instagram stories
Instagram is always evolving and offering new features.  Instagram stories is one of the best marketing tools for businesses.  They are video snippets that have a lifespan of only 24 hours.  This helps create that feeling of FOMO which is also known as fear of missing out.  This then creates a need in the user to check out these videos before they disappear.   
Using Instagram stories to feature your customer testimonials is a great way to expand your reach and help potential buyers make informed purchasing decisions.  Not to mention, people love seeing what people are buying and enjoying. The above example from  Inkbox does a great job of displaying their reviews where customers are already present.
Use IGTV for video testimonials and product reviews
People love video.  Whether it is for entertainment or to learn something new, video marketing is where it is at.  For these purposes, you are using IGTV to share your product reviews and video testimonials.  Before making a purchase, most people will hop online and search for product review videos to help them make their purchasing decision.   Your videos can be up to an hour long in length, which leaves plenty of room to fit whatever content you need to.
So, to get started, you need to reach out to your customer base and ask them to share their thoughts on your product/service in a video.  In order to upload the video to IGTV, you need to abide by their requirments:
The format needs to be in MP4
30 frames per second as a minimum
The minimum resolution is 720 pixels
Orientation can be vertical or horizontal
Minimum video length is a minute and maximum is between 10-60 minutes depending on the account size.
The aspect ratio for vertical should be 9:16 and 16:9 for horizontal video
Max file size is 650MB to 3.6GB
There are tools to help with re-formatting like Animaker (they have free and paid plans) and you can check out other re-formatting tips for IGTV here.
Use quotes from customers in a text graphic format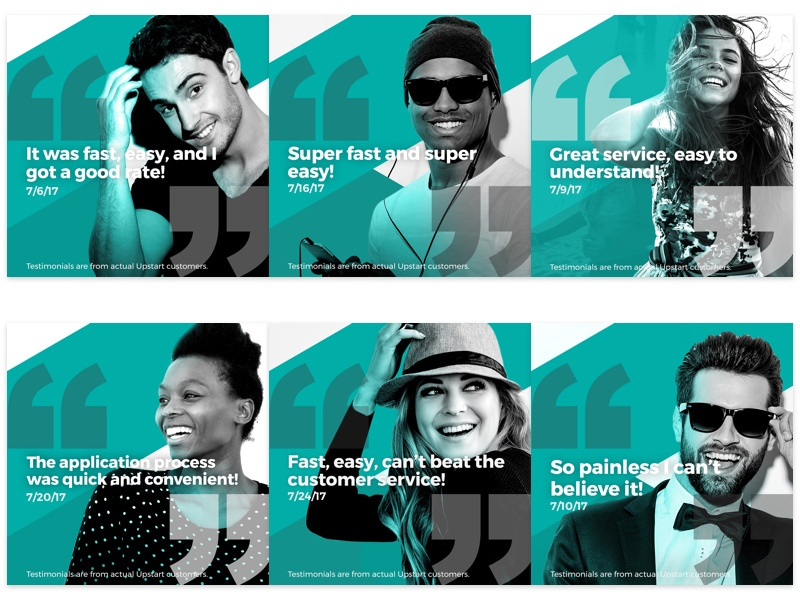 Pulling a quote from a customer testimonial is a great Instagram business tip.  It is an effective way to share what a satisfied buyer has to say about your product/service. If you have testimonials to use, great.  If you need them, reach out to your customer base and kindly ask them to share their thoughts and also ask for a photo.  Brand mentions and branded hashtags can also be helpful in gathering quotes.  Just be sure to reach out to the author before posting.
Once you've chosen a quote, use a visual app to design a quote graphic. Ready to share it on your feed?  Just make sure to mention the person's account in the graphic and the caption.  Linking to it not only puts the spotlight on this person, it also helps to show there is a real person behind the words. P.S. if you don't have access to a photo for your graphic, check out a free stock photo site.
Create a carousel post to feature in your Instagram feed
When sharing customer testimonials in your feed, you want to make sure you are staying in line with the overall aesthetics for your account.  Using a carousel post is a great way to do this.  Just make sure the first image is in line with the overall look and feel of your account.  The rest of the images you can set up as you wish.  Always focus on the customer and stay away from any CTA's that push sales.
Effective Instagram business tips will help boost sales
Leveraging your customer reviews is a great way to connect with customers and further your reach.  The above tips will help you effectively use your customer reviews so you get the most out of them.