If you are looking to make money on Instagram in 2020, the platform has made it easier than ever.  They are continuously investing in the e-commerce side of the business by coming out with new features for brands to take advantage of.  Whether you have 1,000 or 100,000 followers, you can start making money on Instagram.  With that being said, the more engaged followers you have, the more your feed is worth.  So getting to the 10,000 follower mark is a good place to start before beginning to look at monetizing your account.
Below are five ways you can make money on Instagram
1. Use the Instagram Shopping feature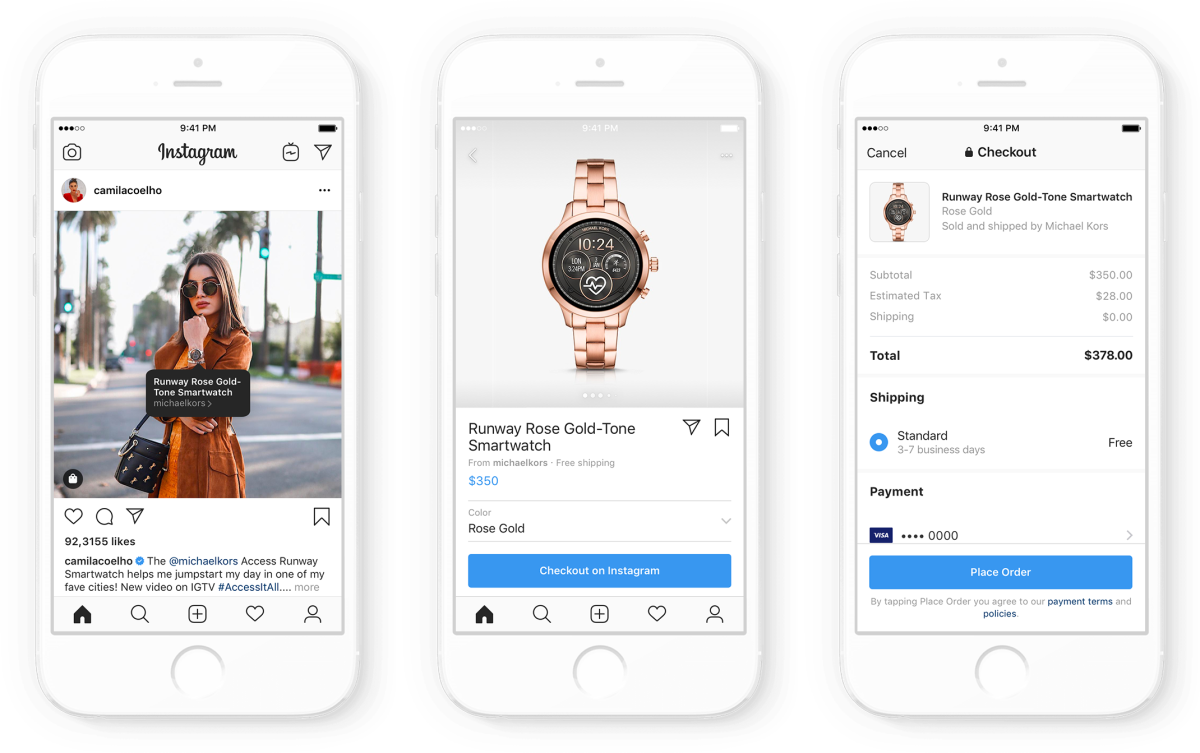 2016 was Instagram's first foray into shopping.  You were able to tag a product in your post that would link to your website so a consumer could make a purchase.  The overall shopping experience is still in place but with lots of new features like:
Tagging products both in your posts and in Instagram Stories.
Have your products discovered in the Search & Explore feature.
Use Instagram's insights to better learn which of your products is resonating with your followers and in turn allow them to checkout right from the Instagram app.
2. Make Money on Instagram With IGTV Ads
If you are a creator using IGTV,  you can start making money for your work.  Some ways include:
Ads on your IGTV videos – Instagram will share at least 55% of the revenue from these ads with creators, which should spur more influencers to create material for IGTV.
Badges – These can be purchased while doing a Live video. For example, a viewer will see a badge appear as a heart symbol alongside their name. That person's comments will be more prominent and influencers will also be able to see who donated to them by purchasing badges.  They cost $1.99 or $4.99 and initially all the money will go to the influencer.
3. Start with affiliate marketing
Becoming an affiliate marketer is one of the easiest ways to start making money on Instagram.  Of course, it goes without saying that you need an engaged follower base.  As an affiliate marketer, you are working as a brand ambassador for brands you love.  Keep in mind, in order not to taint your reputation, never go with brands that you are not familiar with.  Part of building a successful following on any social media platform is trust.  In this example, this influencer is promoting a brand with an enticing discount code that will help incentivize followers to purchase.  Anyone who buys a product using your custom link will earn you a  percentage of the revenue generated.
To get started, there are plenty of both paid and free affiliate marketing tools available.
 4. 
Sponsored posts for other brands
If you have reached influencer status, you can start leveraging that influence to promote other brands.  You will basically be putting out posts related to the product along with your own review.  You just want to make sure you are promoting something that is in line with your other content. You also want to stick to promoting things that you have used and trust.  Keep in mind, people will only take your recommendations if you recommend good stuff.  Here is actress Cassidy Gard promoting Zico coconut water.
It is possible to make money on Instagram
If you have worked up a decent follower base and are ready to dip your toes into Instagram as a revenue stream, there are plenty of ways to do it.  The suggestions mentioned above are a great way to start making money on Instagram and in turn further grow your following.