You need the right Instagram tips if your business is on Instagram.  Their new reels feature is a great medium for businesses to further their reach.  If you are not familiar with reels, they are 15-second video clips that allow you to share a variety of things with your audience.  Clips can be anything from educational to entertaining, depending on how your target audience is.  Why are they so popular?  Because they are a great way for businesses to talk about their business without it feeling like they are trying to sell something.  Furthermore, they are easy to create and are fun to watch fun to watch for the audience.
Here are some reasons why you need to be using Reels:
Instagram Stories are gone after 24 hours and Reels are just easier to navigate.
Viewer reach on posts max out after 24 hours.
Reels are discoverable for weeks based on popularity.
Just like IGTV, all your Reels are stored in a visual library for easy accessibility.
Below are five tips for creating Instagram Reels
1. Grab the viewer's attention
When it comes to social media marketing, in order to keep someone watching, you need to catch their attention with a quick but catchy intro. This is just a 1-3 second hook so they keep watching.
2. Plan out your reel
You only have 15 seconds or less to get your point across, so you really need to plan out what you will say. Use a timer to help keep yourself on track!
3. Get educational
So what can you share in 15 seconds? If you want to foster engagement, educate your audience on something about your business or teach them something.  Obviously this is something quick since you have a very short amount of time.  You can talk about the core values for your brand or how to use your product.
4. Showcase your products
Another way to take up those 15 seconds is to showcase a product. If you have a product to sell, using Instagram reels is a great way to show them off.  Doing a demo of your product, showing a customer using your products or doing a tutorial, is a great way to help a potential customer make a buying decision.
5. Add text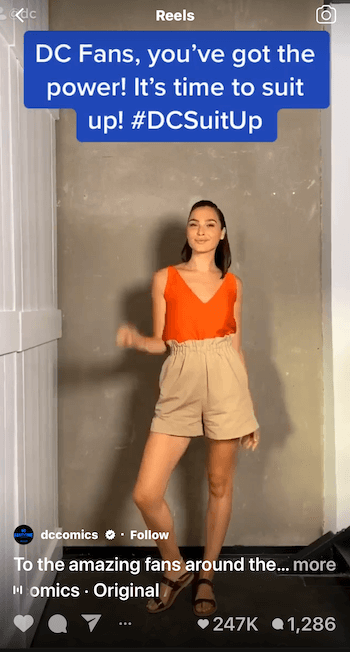 Adding text to your video clips, will make them more engaging and visually appealing for your audience.
Instagram reels should be a party of your strategy
If your business is on Instagram, you always need to keep an eye out for new features they release.  Instagram reels offers a great way to help your business reach audiences in a new way helping to drive more business.