If you want to know more about how to write tweets that will boost engagement, then this post is for you.  Whether you are a newbie to Twitter or you have been a part of Twitterdom for a while, the landscape of this platform is always evolving.  In order to have success with your marketing strategy, you need to not only engage consistently with your followers but you need to stay abreast of the always changing algorithms that affect what kind of content performs well.
Prior to coming up with a strategy you should
Analyze your Twitter account so you can get a clear understanding of past engagement.
See which posts have generated the most engagement for you.
Look to your competition and review their feed.  See what is and isn't working for them.
Once you figure out these you are ready to revamp your Twitter strategy and show off to your audience that you know how to write tweets that excite them.
Here are five tips for how to write tweets that are more engaging
1. Use a call to action in your tweets
On Twitter, you want to be as clear as possible on the action you want your followers to take.  Whether it's asking them for likes, retweets, comments and other engagement activities, adding in a call to action will help make it happen. Here is a great example from Dunkin Donuts.
Providing clear direction influences the audience leading to not only increased overall engagement but more followers.
Here are some strong words to use in your CTA:
buy
enter now
join
reply
help
read
check
follow
2. Use attention grabbing visuals
As humans, we are highly visual.  So much so that visual info is retained 6x more than audio or text.  Not to mention you can expect up to five times more engagement.  Visuals like videos, clips, GIFs and images are faster at catching the eye and drawing someone's attention in.  Because Twitter is meant for a quick message, visuals are the way to go over text.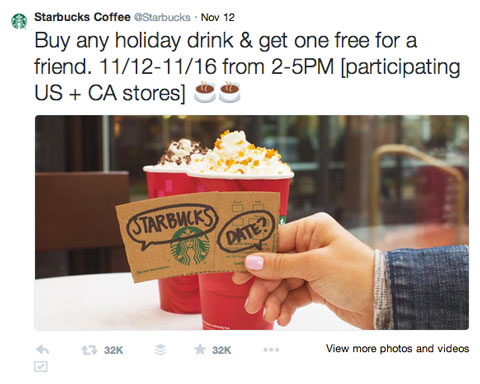 Some places to get imagery:
Canva is a great tool for creating visuals.  Some of their service is free and they also offer a premium option.  Either way it is super simple to create your own eye catching visuals.
3. Use video
Videos get 1.2 billion views a day on Twitter.  I guess you can say video is just one way to boost engagement of a tweet.  In fact, "Tweets with video currently see 10x more engagement than those without".  Twitter lets you upload or directly record video files that are not longer than 30 seconds.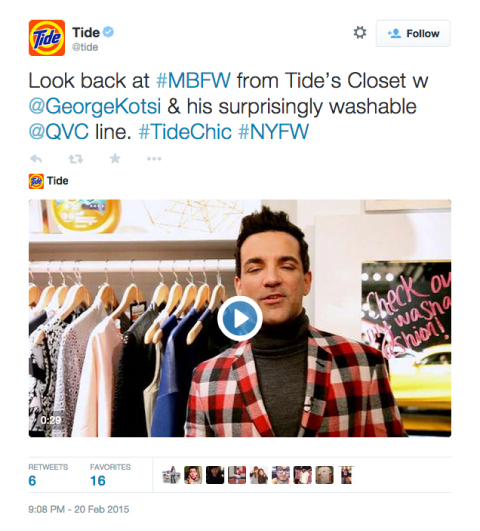 There are lots of options for video including funny clips, behind the scenes, storytelling, tutorials, live interviews etc.  Creating your own video is not too hard.  Check out sites like Moovely or Animoto to create videos.
4. Share quality curated content
Driving traffic to your website or blog is always a good idea but your social media content should not just be about you.  This is where content curation comes in.  Sharing valuable and interesting content from other people on your feed is a good idea for many reasons.  Here are just a few.
Your feed will be more diversified and a place followers can turn to as a resource for information in your niche.
Curating content from the right sources within your industry can lend credibility to your feed.
When you mention or tag the source of your content, you are catching their attention and will encourage them to tag you or retweet your content.  This will not only help set a foundation for a relationship with the source but will also send more traffic, new readers and potential customers to your site.
Coming up with interesting content on a consistent basis is hard.  Curated content will help fill in the gaps.
5. Always share links
Adding a link to your tweet is very effective at boosting engagement.  So much so that  92% of all interactions on Twitter are link clicks.  Links, however, can sometimes be long so you want to be sure to shorten them using something like bit.ly.   Just be sure you check the links to make sure they go to the right page and are not broken.
Best practices for social media content mix
Not all tweets are created equal.  You want to share the right mix of content that your audience will enjoy and find value in.  Here is what you should shoot for.
5 tweets of curated content: Content from other sources but relevant and valuable to your audience.
3 tweets of content created by you: This can be promotional, but keep it relevant to your audience.
2 tweets of personal content: This content can be personal or something entertaining.
Final thoughts
Marketing on Twitter is always changing and in order to have success on this popular platform, you need to have the right strategies. Knowing how to write tweets that will boost engagement and catch your followers attention is the end goal and the above tips will help you get there.